NEW!
Day Trading Strategy
This is the fourth book demonstrating the effectiveness of the ST Patterns Strategy work based on Fractal Corridors. As a result of working with intraday price movements that occurred during the month on five-minute charts, the technical result obtained is more than +1000% of the initial deposit with a risk of 10%. About a year after the first publication, ST Patterns once again demonstrates high performance when used in day trading strategy.
Of the dozens of known and not very popular day trading strategies, I have not seen a single one capable of showing at least some of the results demonstrated by the ST Patterns Strategy!
In the past, hourly charts have been the most effective option for presenting examples of the ST Strategy. However, many traders want to use the ST Strategy for intraday trading. Almost every week, I receive letters with questions about working on small timeframes. Despite the general similarity with the medium term, day trading has its own characteristics that will be revealed in this book. Using smaller time periods, it's also possible to get excellent results!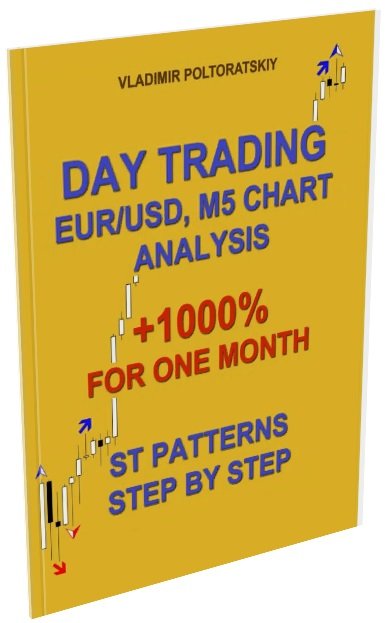 The manual, step by step, shows an analysis of all market movements that occurred on the graph of M5, EUR/USD for the period from April 1-30, 2018.
It is recommended that you start studying this manual after studying the ST Patterns Strategy shown in the first books, since the demonstration of graphic models is designed for a trained trader. In this book, none of the rules of working with ST Patterns that were described earlier will be repeated. The examples given here are intended for the reader who has already learned and understood how the ST Strategy works and who wants to apply it to day trading.
In this book, there are 49 Figures marking more than two hundred Fractal Corridors. To view full-size images on a large monitor, there is a link to the Google Drive file. For a simplified transition, buyers of the printed book can download the e-book for free. Kindle MatchBook gives customers who buy a print book from Amazon.com the option to purchase the Kindle version of the same title for $0.00.
Emotion and Discipline
It should be noted that, in contrast to working on hourly charts for short-term trading, greater reaction speed and concentration of attention is required. The potential for possible profit also increases in such situation. It is also necessary to understand, that a working technical system is a necessary, but not sufficient, condition for obtaining real results. Therefore, emotion and discipline play an important role in the implementation of the trading strategy. In turn, automatic trading systems are not able to take into account all the nuances necessary for successful trading.